Top US Legal Poker Sites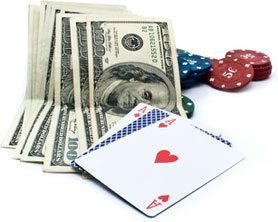 Welcome to USLegalPokerSites.com, where poker players in the United States can look for the latest online poker legal news, information and tips. Our site is dedicated to helping rounders find legit legal poker sites for the best possible online poker games in the US.
Thanks to resolutions passing in Nevada and New Jersey that resulted in the best outcome possible for poker online, the legal atmosphere in America has changed in recent months. Both states - and more are set to follow in the near future - have written into law that playing at licensed poker sites is completely legal. Moves are in place for a federal solution to online poker being found too. That's good news all round for Texas Hold'em players across the country.
PLAY ONLINE POKER LEGALLY IN THE US!
If you live in the USA and want to play at a legal Internet poker room, all of the pages on USLegalPokerSites.com are dedicated to giving you the best information possible about playing poker games at a table online.
While some US states have restricted poker rooms from doing business within their borders, every lawyer in the industry agrees that it's only a matter of time when the question of whether online poker is legal (or not) at the federal level will be answered definitively. Our site is devoted to our readers to make sure they have all the legal information possible about legit poker online.
With the poker scene in the USA thriving, more and more sites are appearing on the market each month. This is great news for American players but can make the choice seem overwhelming. Luckily, there's plenty of high quality guides which can help you make sense of it all. PokerSites.com is run by professional poker players and it's worth having a look at their guide for US online poker options.
It is Legal to Play Poker in the United States?
Currently there are no federal laws that forbid citizens in the United States from creating online poker web accounts and engaging in real money poker online. For state legal standing, the situation for playing poker on the Internet becomes more complicated. A large number of states have out-dated legal interpretations that make both understanding the law and enforcing it tricky. While some states are currently sitting on the fence with regard to poker's legality, some states like Washington, New York, Maryland and Kentucky are flat out unfriendly to websites that offer real money poker rooms. If your state is known to be unfriendly, you should tread carefully. In other states, however, online poker is welcomed in 2018, such as in Nevada and New Jersey, with more states expected to follow suit. These are certainly exciting times, with American players finally getting back online at regulated US legal poker sites.
While no website can offer a proper substitute for legal advice from your lawyer, USLegalPokerSites.com is dedicated to giving poker players in America as much up to date news and data as possible, as it breaks, so that they can make informed decisions and have a better understanding of the legal waters for players in the USA and what makes US poker sites legal.