The Best Visa Online Poker Sites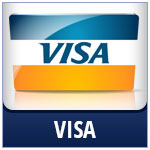 Visa online poker deposits are one of the most popular forms of funding accounts at US Internet poker rooms - FACT!
And despite the efforts of the government, players are still using Visa online poker deposit options as all of the recommended rooms at USLegalPokerSites.com feature this method of depositing funds.
In 2018, most Visa credit and debit cards will be accepted without the use of a good web eWallet provider. Below we will discuss how to make a deposit using a Visa card, some of the great advantages and disadvantages of funding an account on the net via this method, and how our team has found the best online poker sites that accept Visa cards.
Visa - The Main Choice for US Online Players
Online poker sites accepting Visa report a very high success rate in 2018 for processing real money transactions. Despite the legal ramifications of the UIGEA, when the full weight of the law was used against payment processors, poker sites and payment processors have found a way to make US currency bank transactions happen. US based players that have a secured Visa card through their bank report the highest rate of success. Since some transactions do fail, top poker rooms make other convenient alternatives available for players to make deposits.
To initiate a Visa online poker deposit, players will need to log into their online poker room of choice. Inside every room a "Cashier" button will be found in the lobby. Clicking that button will take players to a poker site's cashier page where all financial transactions take place. At this point, players will want to select the credit card option and then enter in their Visa card's information along with a desired deposit amount. All US players are encouraged to look up the deposit limits before initiating the transaction to avoid any complications. Once the credit card information and other details are entered into the system, players will hit the "Submit" button to initiate the deposit. After a few brief moments, players will know whether the transaction went through or not.
Visa - Quick, Safe and Secure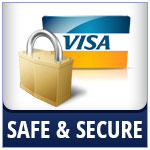 The major advantage to playing at legit online poker sites accepting Visa cards is that cash deposits can be made quickly and conveniently from home. Some deposit methods, such as using MoneyGram, require you to go to a specific location like a convenience store in order to initiate the transaction. Another potential advantage is that the charges on the Visa card are subject to accumulating points with your bank which can sometimes be used for cash back at the end of the year.
All players in the USA should note that if you are going to be playing online, Visa poker transactions may not go through, representing the biggest disadvantage of using this deposit method. While most Visa online poker transactions will process without incident, some will fail, especially if a player uses an unsecured credit card. Another disadvantage is that the bank could flag the card for activities the bank has deemed untrustworthy and suspend the card or the account. For this reason the staff at USLegalPokerSites.com highly recommends opening up a special, separate account for your poker activities. Note that the US government has never attacked an individual player to date.
We Find the Best Legal Online Visa Poker Sites
Our team has gone through and audited all of the sites that offer games to players in the United States to find the best poker rooms to play on. Our ratings and reviews have taken into account good methods of payment from your savings or checking account so you won't be waiting a long time to play or receive your winnings.
Grinders looking to play legally at the best places that allow Visa online poker deposits should stick to our list of comparisons on these pages as all the websites feature have passed our rigorous tests, ranking high for customer satisfaction, security and quality of games. Choose from our top links and get playing today!