Real Money Poker Sites For US Players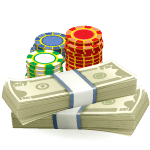 Real money poker games are at the heart of legal debates in the poker industry in America in 2018.
For the last dozen years, players in the United States have been enjoying Texas Hold'em online, but they're swimming in murky legal waters by doing so, and until recently they had no absolute safe haven to operate within.
Now, in 2018, real money games for US currency are a reality in America, with funds that were frozen after Black Friday available once again, and others in the process of getting a payment any month now. With the financial situation improving for these players, the next step is to get back online playing for real money. Luckily, some states are moving to offering those games right now.
Here at USLegalPokerSites.com, we monitor the real money legal situation for all 50 states to save you time and get you back playing ASAP.
You Can Play On the Net for Real Money Now!
Playing poker online for real money is legally acceptable in states like Nevada and New Jersey. For other states, the situation isn't so clear, but momentum continues to build toward the federal government allowing US currency to be used at real money sites. While some sites taking dollars are legit, there are others out there that are operating in slightly grayer areas.
Know where you stand, stay safe, and ensure your bank funds aren't going to disappear by following our expert guide:
Find the best real money online poker sites
We only pick sites with the best security measures in place
Get the very best deposit bonuses
Big player pools so you can start playing and winning straight away