Best Mac Online Poker Sites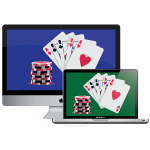 Apple has done a magnificent job with their line of Mac computers. Whether you own an iMac, Mac Mini or even a slick MacBook Pro, the quality of Apple's hardware, matched with the unparalleled OS X operating system, makes for the best possible computer experience around.
With the popularity of Mac computers increasing worldwide, being led by a rabid fan-base in the United States, online poker rooms have taken notice and are beginning to offer both native OS X software clients and browser-based no download options to American online poker players.
Macintosh support by poker rooms is the latest indicator that the gaming industry does recognize the popularity of the OSX computer system. For Mac owners wanting to legally play poker online within the USA, the situation couldn't be better. And we haven't even considered the recent legal developments in Nevada and New Jersey.
On this page we will break down:
The popularity of Mac continuing to increase and how poker sites are supporting native OS X software
How popular Mac compatible websites are in the United States
Answer frequently asked questions from players that log in from an Apple computer
How we found the best legit Mac compatible poker sites for players in the US