The Best US Online Poker for Android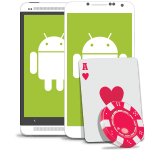 In you are serious about playing great legal online poker games on the go, and are currently looking for a decent cell, the Android platform might be the best portable device to invest in.
With Apple stubbornly refusing to allow any application in their App Store that allows someone to play real money online poker in 2018, that means the way is open for new Android online poker sites to clean up. As a USA Android consumer, that puts you in the driving seat.
So, why is Android so hot for poker websites right now? Well, the good news is that, simply, the Android operating system allows a user to download and install third party applications - including online poker apps - free from any App Store restrictions. Legally, the phone is yours and you can alter the Android operating system to allow yourself the ability to plug in third party applications, such as Flash software from your favorite poker Internet site.
While our staff at USLegalPokerSites.com is a mixed bag of both Apple and Android lovers, we all have one thing in common - we love to put in some hands at the online tables from the comfort of our front rooms while holding a smartphone!
On this page we will look at:
How Android has changed the playing field for poker online
Whether Android devices are a legit alternative to the competition
If USA players can log on legally and play in real cash games online
Advantages of playing on the latest Android cell
Disadvantages of playing Texas Hold'em on an Android tablet or smartphone
Where you can play safely and securely on the net