Playing Legal Online Poker For iPhone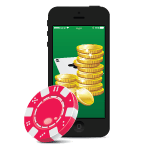 Here's probably the most obvious fact you will hear today: The iPhone is one of the most popular portable electronic devices in the world.
OK, not exactly an earth-shattering statement, but in the United States the late Steve Jobs's little cell project continues to shatter sales records with every new release. Each year Apple is more than happy to refresh the model to offer consumers something new - and the US people love it.
Most Apple users swap out their phone every two years but will still keep every app when upgrading, thanks to a very easy automated migration process. For online poker players looking for a legit real money experience from their iPhone, patience is a virtue as the atmosphere surrounding the law in 2018 is not clear enough for Apple to ease restrictions within the App Store.
Fortunately, the news in America is not all bad. In other countries where poker online is completely legal, Apple has allowed for real money poker apps to be freely distributed to an iPhone via the App Store. In Australia and the UK, for example, players can hop right on to sites on the web and dive into the action legally and safely. Players in the USA will soon enjoy this experience if legal pundits are to be believed, as positive momentum in Nevada and New Jersey for online poker could spur more states to follow suit.
Just for you Apple junkies in the United States, we're going to take a look at:
Changes in iPhone technology that make online poker a reality
How poker online with an iPhone is great fun
Great advantages to playing Texas Hold'em with an Apple smartphone
Disadvantages of playing a card game with an Apple mobile device
How US players can play at poker sites on the net