Online vs Live Poker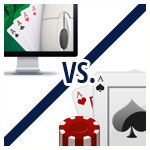 Poker players in the United States are always looking for great games to play in order to win the most money possible while also improving their game. The good news is that for over ten years, grinders have been able to turn to online poker games on the net to make a profit rather than rely solely on live casinos to satisfy their gambling passion.
Despite many, many US grinders loving the live rooms when online poker first emerged, the Internet versions of Americans' favorite card game continued to rise dramatically in popularity, from the first small-time rooms to the Chris Moneymaker boom of 2003, and beyond.
Despite net poker sites and players alike in the USA falling foul of the law over the years, the online game continues to grow in the US and worldwide. Let's take a look at both online and offline poker, and compare them to find out the advantages and disadvantages of playing on the web versus the live game.