The Best Legal US Deposit Options
Life After UIGEA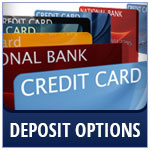 Prior to the UIGEA (the Unlawful Internet Gaming Enforcement Act) in 2006 the most popular means of US poker deposits and withdrawals was the use of eWallets like Neteller. Players could easily use their bank accounts to put money in their eWallet account and then fund any online poker account.
UIGEA then hit and targeted these eWallet companies and other payment processors to put an end to easy transactions. While the intention was to curb online gaming, all the UIGEA did was make it inconvenient for players and sites to meet in the middle.
One of the questions most commonly asked by poker players in 2018 is how US poker deposits work for sites that offer games to American players. Luckily, there are still options open to players in the USA.
Don't Worry, There Are Still Bank Options
Currently, players in the United States looking at poker banking options have quite a few online poker deposits options available to them. Deposits can be made with credit cards or cash can be given to Western Union or Moneygram in order to deposit funds into a US currency account on an online poker site. Finally, some sites still allow for a direct bank wire payment to your account legally.
For players in the US, poker deposits are pretty straightforward. On this page we'll outline all the different financial options American players can use for enjoying real money poker and discuss some of the issues they can face.
What Are The Different Online Deposit Options Available?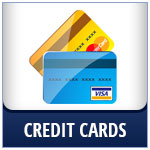 Credit Card
US poker deposits can be made in many different ways but most legit deposits are made via credit cards as they are quick, secure, and have a high success rate.
The three main credit card types used for online poker deposits are MasterCard, Visa and American Express. Legal poker sites will have a deposit link that will take players to a cashier where they can enter in their credit card number and charge the deposit on their card. To make a deposit, players can open up an account, log in using their new credentials, and navigate to the cashier. From there, making a US credit card deposit is fairly straightforward. Remember that you will have to enter your CVV2 number (the short number on the back).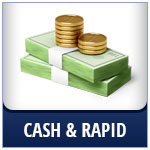 Cash Deposits and Rapid Transfer
Other USA players might prefer cash deposits in poker sites instead of using a credit card. While no site takes cash directly, the best way to handle a cash transaction would be through Western Union or Moneygram / Rapid Transfer. Finding a Western Union or Moneygram outlet to make an in-person transaction is easy as most have stations in convenience stores across the nation. Note that both tend not to allow doing this online through their respective websites.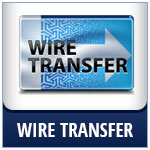 Bank Wire Transfers
Other US poker deposits are made through bank wires, which is a process that can typically be initiated from home. Many Internet sites, however, no longer accept eChecks as an acceptable means of making a deposit for poker banking. You can, of course, also deposit using a regular bank debit card.
Issues US Players Might Face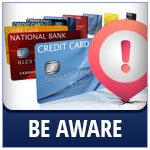 Although making US poker deposits can be straightforward, turnaround times on withdrawals can be very different. Delays can always occur, especially when initiating a withdrawal request for a check, so players will often have to stay patient if they find that payments are late.
Oftentimes fees will be charged by the US online site for a rush delivery or whenever choosing a bank wire option. Finally, there are no guarantees when it comes to dealing with payment processors, so players are advised to open a dedicated bank account and credit card just for their real money poker transactions and to always keep those separate from their main bank account.
I've Won a Bunch of Money - How Can I Get It Out?
Making a real money withdrawal from a great room online tends to be done a little differently than a deposit. If you are most concerned about privacy, the best way is to initiate a cash out through Western Union or MoneyGram. While there is typically a fee associated with this withdrawal type, it does tend to be quick and reliable while also avoiding any banking relationships.
A good, cheap way to get your money out of your poker banking account and into your wallet is by requesting a check. There is usually a nominal fee (if there is one at all) and it can take 10-15 days to receive the check in the mail. This is the most popular means with players of initiating a withdrawal. The process is very much like depositing and starts by getting into your account and clicking on the withdrawal button.
Real Money Poker Deposits - We Have the Best Sites
Making deposits from your bank or savings account is fairly easy at all of the places recommended on the pages here at USLegalPokerSites.com because we test each top site to make sure it is reputable and safe. Until the law in the US improves for online players, you may have to jump through hoops, but we hope to make your journey easier.
Study our site reviews and comparisons and follow the links to get playing legally with a cash deposit today.