Bank Wire Online Poker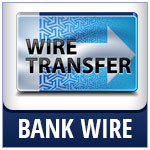 For grinders in the US still dealing with the legal fallout from the UIGEA, a wire transfer is probably the best method for moving funds to and from an account. One of the most reliable and popular methods for making a deposit at an online poker site, bank wire online poker transfers are great for transferring large funds from your bank account into your online poker account.
Online poker sites accepting bank wire transactions tend to have limits in excess of $10,000, which rules out small to medium stakes American players. But if you are a big player, it could be the best solution for making real money deposits. On this page we will review how to deposit to a legit real money US poker room via bank transfer, the advantages and disadvantages it carries, plus how the team at USLegalPokerSites.com found the best poker sites for you.
How to Deposit By Bank Transfer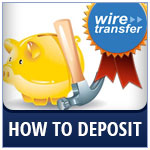 To initiate a bank wire online poker deposit to fund your Internet poker account, you will first need to have a bank account set up to allow the account holder to send and receive transfers. Most banks in the United States will require that you go into a branch to initiate the transaction, but there are banks that allow this to be done online. To send funds, you will need to get the name of the account, account number, routing number, transit number and SWIFT code. All of this information can be received by your poker room's cashier by clicking on the "Deposit" button and then selecting "bank wire" as your preferred deposit method.
What Fees Are Involved With Online Poker Sites Accepting Bank Wire?
After you fill out all the necessary information for the bank, you will most likely have to pay fees for the transfer to take place. In America in 2018, banks have been charging $10-$50 per transaction for a bank wire transfer - remember what we said about this being for big gamblers!
If you log in from the net, never tell the bank you are doing an online bank wire poker deposit as that might set off some red flags for you and your account. While you shouldn't lie about what you are doing, there's no need to advertise it either. Processing times for bank wire online poker deposits tend to take anywhere from one to five days for any of the online poker sites accepting bank wire deposits.
The Fees Are Big, The Limits Are Big - Why Bother?
Bank wire online poker deposits have three good advantages. First, they are highly reliable and have an extremely high rate of success in 2018. Secondly, the amount of money a poker site can accept using this method tends to be a lot higher than any of the other deposit methods, so you won't be making four or five smaller deposits and incurring costs each time. Finally, bank wire transfers tend to be one of the quickest methods for depositing and withdrawing funds.
As always, however, there are a few downsides to bank wire online poker deposits. The biggest negative is the fee, which can include extra fees in the event an intermediary bank is used for the transfer (which can be the case a lot of the time). The other negative aspect is that most banks require you to come into a branch to initiate a transfer and do not allow it to happen online. If you happen to live close enough to a bank, fine.
We Find the Best Bank Wire Online Poker Rooms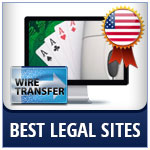 Our expert team at USLegalPokerSites.com reviews and compares all online poker sites accepting bank wire deposits to make sure that their web transactions go smoothly. This way, we can recommend the top Internet poker sites to our readers and make sure they have the best online poker experience possible.
If you are serious about using wire transfers, make sure you check out the links on our pages and choose a great real money poker room for US players. Play legally today for big bucks and start winning right away. We will even find you the best deposit bonus in town.