Top Mastercard US Poker Sites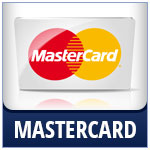 For players using a MasterCard, online poker deposits are almost universally accepted by every top legal US friendly poker rooms. At USLegalPokerSites.com, we review and compare all of the Mastercard poker rooms available to players in the US and only feature the very best.
In today's legal atmosphere banks are discouraged from allowing any gambling transactions to take place, so there is no guarantee that a transaction will go through. If you are a MasterCard holder, however, many of our recommended poker rooms report high success rates for deposits. On this page we'll discuss online poker sites accepting MasterCard deposits, how this method of funding works, some advantages and disadvantages of using a MasterCard, and how we've found great poker sites for our readers.
Is Mastercard the Best USA Payment Option?
Remember, although they might advertise MasterCard, online poker sites do not have a 100% success rate processing transactions. Do not take this as a reflection of your credit standing or as a sign you are in hot water with your bank. This is just the reality of how things are in 2018 under the auspices of the UIGEA in the United States. If you have trouble depositing to your poker account using a MasterCard, there will always be other methods available to you.
How to Make A Mastercard Online Poker Deposit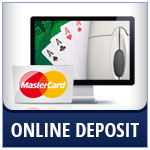 To initiate a deposit at your favorite poker site, you might be asked to verify your identity. All of the poker sites recommended by USLegalPokerSites.com are highly concerned with security, including identity theft. To make sure you are the one initiating the transactions and using the account, a poker site might require you to provide a photo copy of your ID. This can be done by scanning your Driver's License or by snapping a picture of it and uploading it as an attachment in an email to their customer service department. You should be aware that if you are going to play online, MasterCard poker transactions might subject you to an identity check from a poker site.
Using a credit card to make a financial deposit is extremely easy for all of the online poker sites accepting MasterCard. First, log in to your favorite poker site and navigate to the cashier. There will be a button that says "deposit" that you will need to click on. You will then be shown a screen to enter in your credit card number, expiration date and other details. Once you have filled that out, as well as your desired deposit amount, you will hit the "submit" button and wait for the transaction to complete.
Reliable and Safe - Mastercard is a Winner
If you have a secured MasterCard, online poker deposits should be very straightforward. The main advantage to using a MasterCard or other credit card is that the deposit should go through with minimal hassle and time. Players using this deposit method won't have to leave the comfort of their home, unlike walking down to your local Western Union or Moneygram outlet.
The potential disadvantages for US players using a MasterCard will be alerting their bank that they might be involved with activities their bank does not want to be a part of. Banks have a low tolerance for gambling activity due to the legal ramifications of the UIGEA. Although it is extremely rare, a card could get cancelled or your bank account could be flagged. This is why we recommend that all players set up a separate bank account and secured credit card for all online poker activities. It should be noted, however, that no individual player has ever been targeted by authorities for participating in online poker games.
We Find the Best Legal US Poker Sites for Mastercard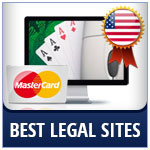 The experts at USLegalPokerSites.com have gone through and independently audited all poker sites that open their doors to players in the United States. We test all sites against strict criteria before they make our ratings list, and we won't post links to their site within these pages unless the MasterCard online poker transactions are reliable. We are American online players just like you, and our opinions really count. If you are a Mastercard user in the United States and want to play real money poker online by the law, stick with our reviews and you won't go wrong.