Legal US Online Poker Sites With the Most Fish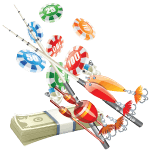 The age old question for any online poker player, be they in the United States or anywhere else in the world, is where to find the most fish.
One of Sun Tzu's philosophies in The Art of War encourages commanders to, "avoid strength and attack weakness," which is just how most online Texas Hold'em grinders make their living.
Wise US poker players take on the easy prey, known as fish, and avoid the better players, known as sharks. Once the grinders log in to play poker online, their goal is to find legal USA poker rooms with the most fish and then sit down at any easy looking table to maximize their potential earnings.
In order to find easy and legit games in the USA, players will have to log download the right poker clients. Fortunately, our guide does the hard work for you.
Why it's awesome to look for the most fish possible
Great ways to find easy games that have the most fish
How poker sites specifically market to fish
Which legal sites in the USA have plenty of fish