The Best US Legal Credit Card Online Poker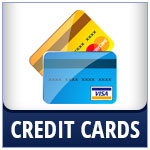 Credit Card online poker transactions are the most popular means for a player to use to make a deposit on the net.
Most, if not all, of the recommended rooms featured within the pages at USLegalPokerSites.com take credit cards. The reason they are so popular is because most top sites have put in a process that ensures a high deposit success rate. While the industry continues to adjust to the legal climate for payment processors in 2018, players are highly encouraged to read up on the facts and best practices presented on this page regarding using credit cards. Overall in the US, online poker sites accepting credit cards represents the easiest means of making a deposit.
With credit cards, online poker deposits are pretty straightforward and have a high degree of success. In 2018, the rate of success has gone up considerably compared to what they were a few years ago. There's no guarantee that credit cards will work, however, so good online poker sites accepting credit cards always make other deposit methods available. Players will find that by successfully using credit cards, online poker deposits can be made reliably and easily under the right circumstances.
Safe and Secure - Credit Cards are the Best Bet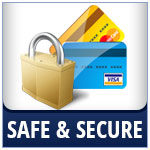 All players in the United States should be aware that all Internet poker sites require you to confirm your identity in an effort to prevent fraudulent transactions from taking place. Typically a site will require that you send a copy of your Driver's License or other government issued identification. Be aware that if you are going to play online, credit card poker transactions might subject you to an identity check from the poker site.
Quick and Easy - Credit Cards Beat the Rest
Advantages for US players using credit cards include a quick and easy transaction. Most reputable poker rooms report a success rate of 70-80% on all credit card deposits. This approval rate has been steady during 2018 and applies to secured credit cards issued by banks. These types of credit cards include "debit cards" and prepaid forms of credit cards. Unsecured cards will typically get declined and should only be used to fund an eWallet solution if one is available. Using this currency payment method, players in the United States do not have to leave the comfort of their home in order to get funds onto their favorite legal, real money US poker websites.
Sounds Great - Why Shouldn't I Use a Credit Card?
Disadvantages players can experience include declined payment transactions and even the potential of their account being closed by the bank. Most credit card companies do not want to be associated in any possible way with online gaming due to interpretations of federal law. Because of the UIGEA, banks do not even want to tip toe on the subject of gambling and if poker fits within any legal boundaries or not. The risk to your financial institution is simply too high. For this reason, it's highly recommended that players open up a separate bank account legally for their poker accounts.
We Find the Best US Legal Poker Sites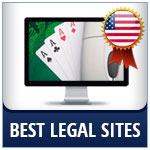 While there is a lot of guesswork that goes on for consumers, we've narrowed the list down by recommending quality legit sites at USLegalPokerSites.com that have high rates of success for credit card transactions. Players that decide to venture out on their own to find a poker site to play on run the risk of joining a room that has little or no track record of successful credit card transactions.
We test each site for credit card friendliness, and if the achieve high ratings, they will make it onto our pages. So, read our expert reviews and comparisons, click on one of our top links and choose from the list of online poker sites accepting credit cards for the best possible online poker experience.