The Best Legal US Online Poker for iPad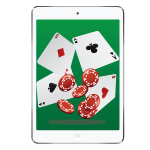 If you are a Texas Hold'em player that owns an Apple device and looking to play in real money online poker games in the United States, there is no solution native to the iOS platform that will work. Apple maintains the stance that they will not allow any app to appear within their App Store that offers real money poker.
Fortunately, we know a few tricks that work just fine on any Apple device if you want to get around this restriction and play iPad poker online at any of the legit poker sites that cater to Americans. In some states, the game of Hold'em and other poker variants are legal to play online. In others, it's not explicitly illegal as only payment processors have been attacked and to date, no individual poker player has been targeted. For many, it's a matter of figuring out a way to get around the legally enforced terms and condition Apple places on iPad poker players.
At USLegalPokerSites.com, we test, compare, and review the top iPad poker rooms available to players in the USA for our expert guide. We will review:
Critical changes in Apple iPad technology
Explain how poker can be lots of fun on an iPad
Advantages Apple products have for poker players
Disadvantages that Apple products present when trying to play online poker
How to log into the best rooms with an Apple product to play poker online, even if there is no app available