Top US Poker Pros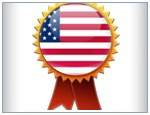 When you consider the winnings of top professional poker players, plenty of numbers sail through your mind no doubt. And you'd be forgiven for wondering how the love of a card game could turn regular guys into bona fide millionaires.
But that is exactly what happened with the top 10 US poker earners. They took an ages old card game, fell in love, and then took it a few more important steps further than your average poker fan. Some, like Jamie Gold, may boast day jobs to compete with their poker playing stardom, but many of the top poker players can safely lay claim to millions of dollars in earnings simply from playing a game.
So who are these poker greats? We look at the top 10 money winners that hail from the USA.